[ad_1]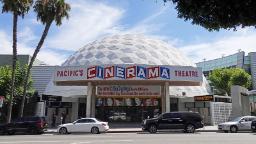 The announcement that Pacific Theatres saw no economically viable path forward to reopen its outlets in California — including the legendary Cinerama Dome in Hollywood — rippled through the entertainment industry on Monday, prompting people to reminisce about movies they had seen there.
"I'm so sad,"
tweeted actor Joseph Gordon-Levitt
, summing up the response. "I remember going to the Cinerama Dome to see 'Star Trek IV' with my dad when I was little. So many memories since then. "
Others shared similar stories. Personally, that would include seeing "The Wind and the Lion" as a kid back in the mid-1970s, watching
Sean Connery
— who will be among the standout names in this year's Academy Awards "In Memoriam" segment — wield a sword in epic, swashbuckling fashion.
The Oscars have always served as what amounts to a primetime commercial for the movies, celebrating their past as well as their present and promoting them to a global audience. But while a year of pandemic-related shutdowns hasn't dampened enthusiasm for escaping into entertainment, it has placed dark clouds over the future of theaters, and whether people fed a steady diet of streaming content into their homes will be lured out of them as readily, especially if public-health concerns about mass gatherings and crowded indoor spaces linger.
Still, if the reaction to the Arclight and Pacific news indicates anything, it's that the movie industry is at a tenuous crossroads, giving the celebratory aspect of the awards a clearer and more urgent mission.
Whatever wins best picture this year will almost certainly have achieved its widest exposure among people watching on a couch, not in a theater seat. As the film business gears up for a summer and fall with considerably higher hopes than 2020 offered, reminding people not just of what they saw, but also what they've been missing, could be the most important task that these Oscars can accomplish.


[ad_2]